Ganglion Cyst Removal Performed by Natalie S. Mesnier, MD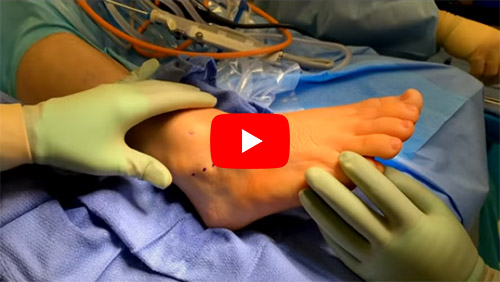 Common benign lesion caused by tearing or degeneration of the lining of a joint or tendon, allowing synovial fluid to leak out. They can often fluctuate in size, but may remain stable.
They commonly present around the wrist, but are also common in the foot. And though they are benign, they can cause pain simply because of their location, as they can cause pain or pressure with shoes, or can cause nerve irritation due to a "mass effect" if it is enlarging and impinging on a nerve.
Historically, they were treated with the classic home remedy of thumping it with a bible or dropping a heavy encyclopedia on the lesion, as it possibly ruptured it or allowed for fluid egress. I am here to say….nah….does👏not👏work.
✨Treatment includes observation, as most cause no difficulty, aspiration or surgical excision. The rate of recurrence is quite high with aspiration, but is a simple thing to attempt. The most definitive treatment in excision.
✨In this case, at the subtalar joint, it was expanding under an already present lipoma, and caused pain with joint motion and pain with shoes.